Jury Category Soloist – Giuria Categoria Solisti
Some members of the jury are still confirming their participation
Alcuni membri della giuria devono ancora confermare la loro partecipazione
Jean-Louis Delage – President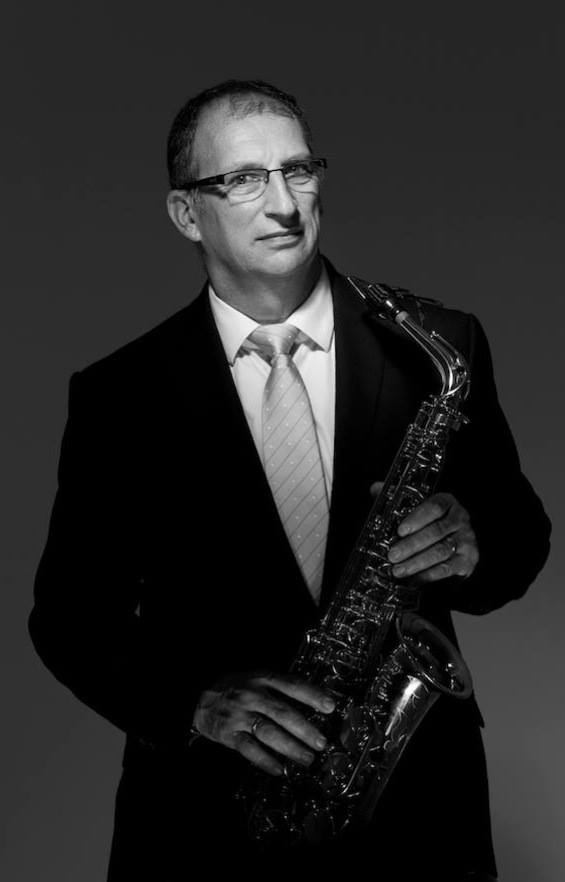 [IT] Storico musicista dell'Orchestra della Garde Républicaine, Jean-Louis DELAGE è Primo Premio al Concorso Internazionale di Composizione di Povoletto (Italia) e Prix della SACEM.
Insegna sassofono e clarinetto da molti anni. Lui è professore senza pari che ha sviluppato numerose vocazioni in campo musicale, formando molti professionisti.
Attualmente insegna al Conservatorio del XIV arrondissement di Parigi e presso il Conservatoire à Rayonnement Départemental du Val de Bièvre dove occupa il posto di Professore coordinatore e responsabile dell'orchestra. Ha insegnato anche per molti anni al Conservatoire de Saint-Nom la Bretèche.
Per molto tempo è stato solista dell'Orchestra della Garde Républicaine ed ha partecipato a numerosi concerti in grandi sale parigine.
Delage è Presidente e fondatore del Concorso Internazionale Adolphe SAX France e Direttore d'Orchestra aggiunto dei Sapeurs Pompiers des Yvelines.
Inoltre è compositore di opere (edite da G.Billaudot) suonate nei più grandi festival francesi ed internazionali.
[FR] Ancien musicien dans l'orchestre de la Garde Républicaine, Jean-Louis DELAGE est Premier prix du Concours International de Composition de Povoletto (Italie) et Prix de la SACEM.
Il  enseigne le saxophone et la clarinette depuis de nombreuses années.
C'est un professeur musicien hors pair  qui a  suscité de nombreuses vocations au cours de sa carrière de pédagogue. Il a formé de nombreux musiciens professionnels.
Il enseigne actuellement au Conservatoire de Paris XIVeme et au Conservatoire à Rayonnement Départemental du Val de Bièvre ou il occupe le poste de professeur coordinateur chargé des orchestres.
Il enseigne également au Conservatoire de Saint-Nom la Bretèche depuis de nombreuses années.
Il fut longtemps soliste dans l'Orchestre de la Garde Républicaine et a participé à de nombreux concerts dans des grandes salles parisiennes.
Il est  Président fondateur du Concours International Adolphe SAX France et Chef d'orchestre adjoint de l'Orchestre des Sapeurs Pompiers des Yvelines.
Il est également compositeur dont les œuvres (éditées chez Gérard Billaudot) sont jouées dans les lus grands festivals français et internationaux.
Alain Crepin (B) – Saxophonist (in attesa di conferma)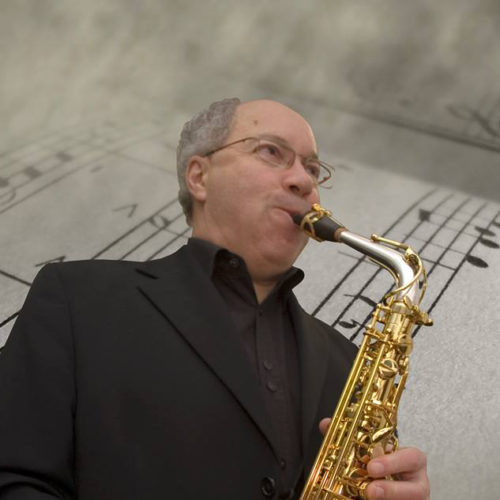 Alain Crepin, a many-sided musician, was born on  February 28th 1954 at Mettet (Belgium). At first he studied saxophone, violoncello and piano at Dinant; later on he went to study the saxophone with François Danneels at the Royal Brussels Conservatory of Music. He graduated from this prestigious conservatory with a Higher Degree for saxophone and chamber music as well as First prizes for harmony and counterpoint. Moreover, he also studied fugue and orchestration.
At present he is professor of saxophone at the Brussels 'Conservatoire Royal de Musique' and professor of orchestration and conducting at the Conservatory of Music of Esch-sur-Alzette (Grand Duchy of Luxemburg).
Since 1983 he is a military bandmaster with the rank of an officer and for 21 years he was musical director of the Royal Symphonic Band of the Belgian Air Force.  King Albert II promoted Alain Crepin to the rank of major on December 26th 2004 and on until August 31th 2008  he was appointed artistic director of  all the bands of the Belgian Army.
As a soloist or conductor he has recorded some 60 compact discs and performed all over the world. He accompanied the greatest saxophone players at the European Saxophone Days at Dinant in 1990 and at the World Saxophone Congresses in Minneapolis (Minnesota 2003) and Ljubljana (Slovenia 2006). As a virtuosos saxophonist he was also Vice President of the (Association Internationale pour l'Essor du Saxophone) and he is currently a board member of the "A.SAX" (Association pour le Saxophone). Since 1994, Alain Crepin is also an active member of the "AIAS" (Association Internationale Adolphe Sax / International Adolphe Sax Association) at Dinant. He was secretary of the jury of the International Saxophone Contests at Dinant in 1994, 1998 and 2002, and since 2005 he is president of this jury. Every four year he conducts the gathering of saxophonists from all over the world honouring the inventor of their instrument (in 2006 they were no less than 1402!).
As a composer, Alain Crepin wrote numerous works for symphonic band as well as a lot of solo instrumental pieces with piano accompaniment. Most of these compositions have been recorded on CD and performed by famous wind bands and orchestras in many countries.
Crepin's compositions are published as well in Belgium (with Andel, HaFaBra Martinus, Bayard-Nizet) as in France (with Henry Lemoine – Paris and Robert Martin – Mâcon) and in The Netherlands (with De Haske Publications and Tierolff Muziekcentrale).
These numerous activities do not prevent him from adjudicating in Belgium and abroad (at the Paris 'Conservatoire National Supérieur de Musique', as well as in Nice, Munich, Valencia, Taiwan, Madrid, Israel, Trento … Moreover, he also gives several master-classes e.g. in Vienna, Jerusalem, Gap (France), Alicante (Spain),Szczecin(Poland), Madrid (Spain, Caracas (Venezuela) etc…
Marco Gerboni (IT) – Saxophonist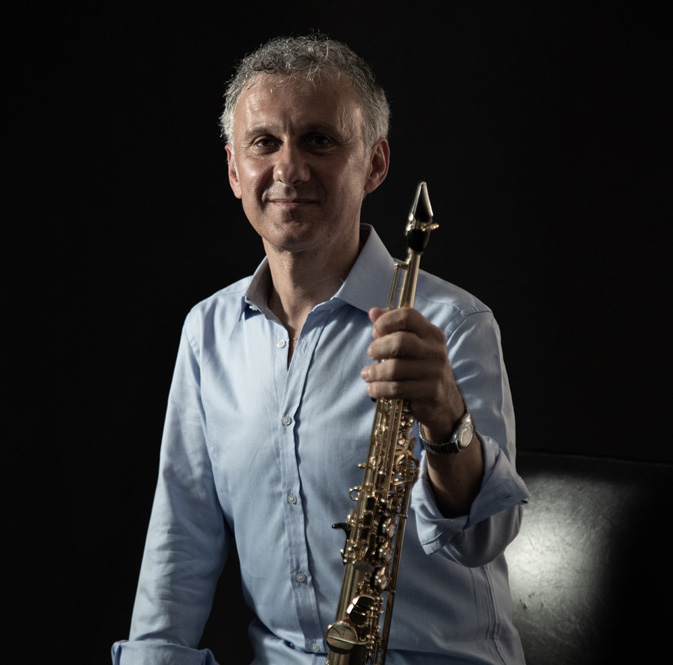 A prodigious student, Marco Gerboni graduated in Sax Performance from the Conservatory "G.Rossini" of Pesaro with the highest possible grade at the age of 16. Three years later at 19, he completed his performance degree in clarinet as well.
As a duo performer, he won First prize in 12 national and international competitions.
In 1990, he won first prize for Principal Sax at the Arena di Verona Orchestra. As a soloist at only 14 years of age, he won first prize at the  International "Premio Ancona" for Wind Instruments (Goffredo Petrassi President of the Jury), while with the Baires '87 Group he won the 1992 "G.Tani" Prize.
He has performed with various Symphony and Opera Orchestras amoung them : Orchestra del Teatro alla Scala in Milan, Orchestra Filarmonica del Teatro alla Scala, Orchestra del Teatro la Fenice of Venice, Orchestra dell'Accademia di Santa Cecilia in Rome, Orchestra del Maggio Musicale Fiorentino, Orchestra del Teatro dell'Opera of Rome, Orchestra della RAI of Turin, Italian Philarmonic Orchestra, Orchestra del Teatro San Carlo of  Napoli, Orchestra dell'Ente lirico Arena of Verona, Orchestra della Radiotelevisione Switzerland, The Hungarian Symphony Orchestra.
As a soloist he has performed with Orchestra del Teatro Comunale of Treviso, Orchestra of Ferrara, The Regional Orchestra of Lazio and The Orchestra Philarmonia Veneta, Arts Symphony Ensemble di Barcellona.
His recordings can be found on the following labels : Emi, Rai Trade, Delos, Stradivarius, Primrose Music and Pentaphon, Warner Bros.
He has already represented Italy at the 10th, 11th and 14th World Saxophone Congress (Italy 1992, Spain 1997,Slovenia 2006) and a the 1st European Congress of Saxophone (Spain 2014).
He was a member of Italian Saxophone Quartet and with this group performances have taken  throughout Europe  and  USA. He played also in Cina and Japan.
He has taught masterclass in Portogruaro, Fermo, Asolo, Frankfurt (Hochschule), Cordoba, Granada, Valencia, Jaèn and Madrid, Conservatory of music in Birmingham, University of  music in Iasi (Romania)  and at The University of Denver (Colorado).
He is currently full Professor of Sax at the "G. Frescobaldi" Conservatory of  Ferrara- Italy.
Jerome Laran (FR) – Saxophonist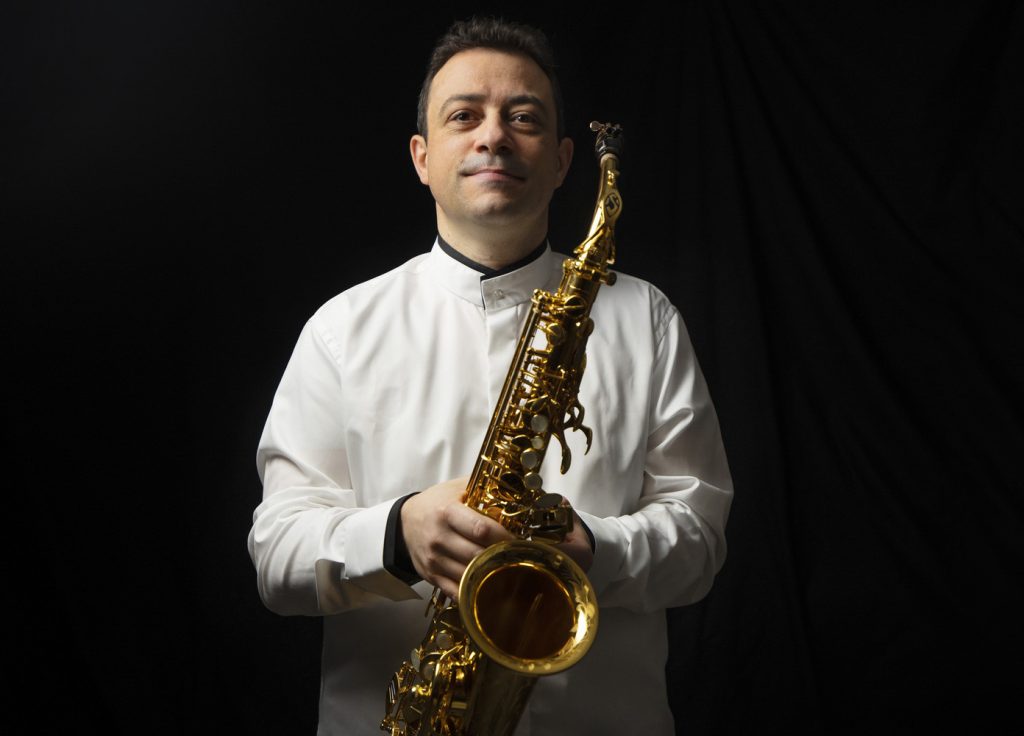 Jérôme Laran was born in 1978 and began the saxophone when he was 9 years old. He studied with Claude Delangle at the Conservatoire National Supérieur de Musique et de Danse de Paris, and graduated in 2002  with a first prize with unanimity. He then followed the two years cycle de perfectionnement (advance cycle) and obtained in 2005 the aptitude certificate in saxophone teaching. He has received numerous prizes and awards including the Cziffra Foundation and the prestigious "Révélation Classique" (classical discovery) prize from ADAMI in 2004. He was also supported by the Sasakawa, Meyer foundations and the Mécénat Musical Société Générale.
Jérôme Laran received the first prize at the International Saxophone Competition in Luxembourg (2000), and he also excelled in several international competitions  such  as A.R.D in Munich (2001), Adolphe Sax in Dinant (20002). 
Jérôme Laran has given numerous concerts and recitals in Europe, America and Asia in the most prestigious concert halls : Cité de la Musique, Salle Pleyel, Salle Gaveau, Auditorium du  Musay d'Orsay in Paris, Philharmonie in Berlin and Köln, Victoria Hall in Geneva, Opera City, Partenon Tama and Bunka Kaikan in Tokyo, as well as in festivals such as Pablo Casals in Prades, Festival d'Automne in Paris, Les Transclassiques, Voix Nouvelles, Musica, Ars Musica in Brussels and the Tokyo Summer Festival.
As a soloist, Jérôme Laran  has performed with the Orchestre National de Chambre de Toulouse, the Itinéraire Ensemble, the Wallonie Royal Chamber Orchestra, the Orchestra des Lauréats du Conservatoire, the Filharmonie Boruslav Martinu of Zlin (Czech Republic), the Radom Chamber Orchestra (Poland) and more recently with the Collegium Musical de France.
Jérôme Laran has released some ten recordings including three solo compact discs, and his latest solo release "Impressions d'Automne" (Cafua Records, Japan) devoted to french music has received great critical acclaim including special recommendation by Record Geijutsu in Japan. In addition, he has appeared in publications that include Vandoren Magazine and C.M.F Magazine in France, Saxophone Journal in the United States, Japan's Pipers, Band Journal and The Sax magazines and the Australian Clarinet and Saxophone Journal.
Jérôme Laran is artistic director of one summer music festival in the south of France : les Rencontres Musicales de Capvern. He's also in charge of a new collection for International Music Diffusion Edition.
Jérôme Laran teaches saxophone at the W.A Mozart and P.Dukas in Paris and frequently gives master class in Europe and Asia. 
Naomi Sullivan (UK) – Saxophoinst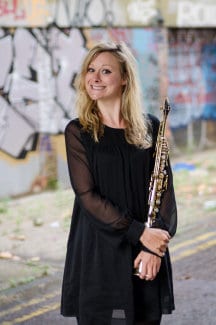 Naomi Sullivan lives and works as a freelance saxophonist in London. She has been Head of Saxophone at the Royal Birmingham Conservatoire since 2008.
After studies in Manchester (Chetham's School of Music), London (Royal College of Music) and Evanston (Northwestern University, Chicago), she performed in the UK as part of the Countess of Muster Recital Scheme, Park Lane Group and 'Live Music Now!' 
As a chamber musician, Naomi has been part of several groups – including Paragon Saxophone Quartet, Zephirus Quartet and most recently with Flotilla, lead by Kyle Horch.
As an orchestral musician, Naomi has worked for a number of UK orchestrasincluding Birmingham Contemporary Music Group, City of Birmingham Symphony Orchestra, BBC Scottish Symphony Orchestra, Halle Orchestra, Aurora Orchestra, Piccadilly Dance Orchestra, The Opera Group, Birmingham Royal Ballet, Orchestra of the Swan and Music Theatre Wales and most recently with Chineke.
She is currently performing with Sounding Cities (www.soundingcities.com) – a collaborative project that uses audio/visual arts to explore the environment in which we live. Sounding Cities works with composers and visual artists to devise performances inspired by responses to our urban surroundings – questioning how we experience contemporary music and how music and art can mirror our fast changing cities. 
In 2009, at the World Saxophone Congress in Bangkok, Naomi co-founded syzygy, with the aim to perform established contemporary works alongside promoting new music for saxophone quartet. syzygy has played at Adrian Boult Hall, Birmingham, as part of the Frontiers + Andriessen Festival, where they performed Louis Andriessen's Facing Death, Huddersfield Contemporary Music Festival, the Purcell Room as part of the Park Lane Group Young Artists Series and 'Proud', Camden. In 2014, with support from Help Musician's UK, C.A.S.S and the many kind supporters of a Kickstarter project, syzygy released a debut recording of David Maslanka's Songs for the Coming Day.
In September 2007 Naomi started teaching at Birmingham Conservatoire. She has given master classes at a number of institutes including the Royal College of Music, Trinity College of Music, Chetham's School of Music, Well's Cathedral School, the Purcell School, the 2017 Andorra SaxFest, the Royal Conservatoires of Antwerp, Brussels, Ferrara, Fermo, Lucerne and Amsterdam (Long live Erasmus). She has taught at the Purcell School, City of London School, Hindhead Summer Course, and for various saxophone days in the UK.
Jury Category Beginners/Superior/Quartet
Giuria Categoria Debuttanti/Superiore/Quartetto
Some members of the jury are still confirming their participation
Alcuni membri della giuria devono ancora confermare la loro partecipazione
Stephane Sordet (FR) – Saxophonist – President
Anxious to develop and spread the repertoire, Stéphane Sordet is saxophone from ensemble Sillages (national stage Le Quartz-) and he collaborates and works with many other  ensembles (Dédalus, Rhizome, Ensemble Spirali…) and participates in many creations with composers from various horizons and aesthetics: G. Bustos, M.Lepauvre, L.Naon, G. Dazzi, F. Rossé, K. Sakaï, M.Matalon, R.Lemay, B.de la Fuente, D.D'Adamo, J.Torres Maldonado, J.Munoz Bravo, C.Grätzer, J.M Lopez…
Practicing electro-acoustic music, he integrates new technologies into his repertoire and plays the Sylphyo (he collaborates with the company Aodyo for the development of this instrument). Stéphane Sordet also plays Henri SELMER Paris instruments and Vandoren reeds and mouthpieces, ligature JLV.
A "crossover" saxophonist, he practices all saxophones (from bass to sopranino), and loves encounters and crossovers between the arts, mixing musical styles and artistic practices. He performs in orchestras, in chamber music (reed quartet and various formations), but also with actors (Sylvian Bruchon, Sophie d'Orgeval, DJ Taj) and plays with eclectic formations mixing improvised music, scholarly music and electronics or jazz and world music, but also with other artistic practices such as dance where he has collaborated with the choreographer Herwann Asseh.
He has recorded several pieces for France Musique, France Culture and Robert Martin Editions, Notes en Bulles Editions, as well as two CDs with Trimurti (Saxophone Trio).
He is regularly invited to universities, conservatories and other cultural institutions (museums, art schools, cultural centres…) to give lectures on contemporary music, computer music and computer-assisted creation techniques.
He collaborates with many publishers and commissions educational compositions or concerts from many young composers by accompanying them in their early careers.
He is a Vice President  of the French Saxophonists Association, where he is in charge of the presentation of new repertoires within this association.
He is currently professor of artistic education at the Conservatoire à Rayonnement Régional de Brest and saxophoniste in ensemble Sillages.
Frederico Alba (IT) – Saxophonist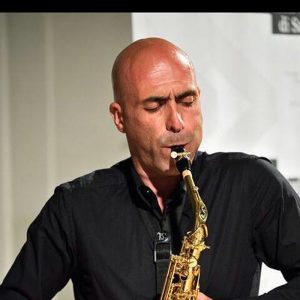 Frederico Alba (Belgium '75) He graduated from the Conservatory "A. Corelli" in Messina with honors. She continued her studies at the Bordeaux National Conservatory (France) obtained an advanced degree in saxophone and chamber music under the direction of Jean-Marie Londeix and Marie-Bernadette Charrier is Gold Medals of all'Unanimitè Jurie.
He also attended courses with C. Delangle, C. Wirth, V. David. He graduated in D.A.M.S. University of Palermo – Faculty of Letters and Philosophy with a thesis entitled: Salvatore Sciarrino – "La Bocca, i piedi, il suono".
And "Winner of numerous music competitions at national and international level and paid particular commitment to the study and dissemination of musical literature '900. It is called to represent Italy in the tenth – XI – XVI World Saxophone Congress '96 Valencia (Spain) 2000 Montreal (Canada), Saint-André 2012 (SCOTLAND) interpreting compositions in the world premiere of Italian composers and contemporary foreign.
Collaboration since 1997 with the National Symphony Orchestra of the RAI Orchestra of the Teatro Massimo of Palermo, the Sicilian Symphony Orchestra, the Teatro Bellini in Catania Orchestra, under the direction of: Pretre, Baudo, Inbal, Kovatchev Albrecht, Mazzola, Swann, Jarvi, Neschling, Noseda, Storgards, Zagrosek, Stefan Anton Reck, iron, Lombard, Cem Mansur, Xu Zhong, Humburg … participated in numerous orchestras and chamber music festivals including : the Venice Biennale, Settembre Musica, afternoon music, Ravello Festival, Sicilian "Friends of Music" association in Palermo, SpazioMusica, Festival New Conzonanza, MusicInformazioneRomaTre ..
And "guest lecturer in several Master Classes – courses (International Saxophone Festival in Fermo, Saxophone International Academy Campus Stupor Mundi …) and as a jury member for national and international assessment Music Competition Committee, including the International Competition "Adolphe Sax" – Paris (now in the twenty-first edition), 12° International Saxophone Festival Przeworsk..
He has published several books for Ed Moments in historical musicology, history of instrumental teaching and saxophone.
He currently holds the position of professor of saxophone at the Conservatoire de Musique « V. Bellini » di Caltanissetta (Italie – Sicile).
Andrea Carrozzo (IT) – Saxophonist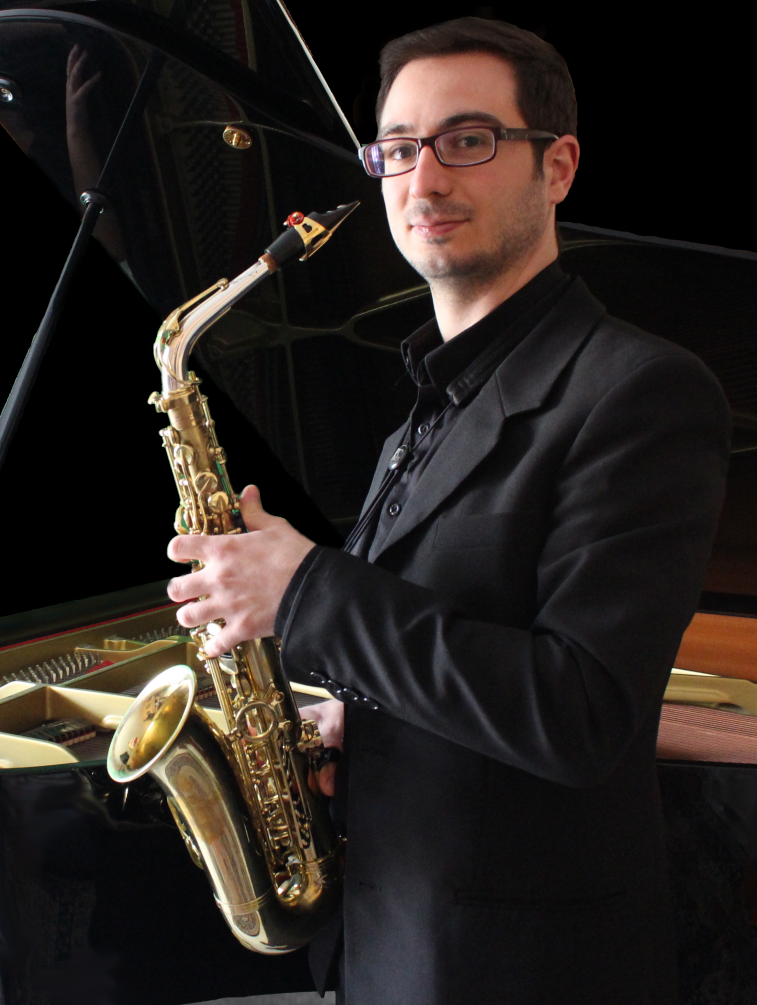 Andrea Carrozzo si diploma in sassofono con il massimo dei voti presso il Conservatorio "N. Rota" di Monopoli (BA) sotto la guida del M° Vittorio Cerasa. Prosegue i suoi studi musicali presso il Conservatorio di Lyon, con il M° Jean-Denis Michat ottenendo, nel Maggio 2016, il D.E.M. (Diplôme d'Etudes Musicales) in sassofono con menzione "très bien à l'unanimité"; conclude i propri studi presso il Conservatorio di Lyon nel 2017 con il conseguimento del diploma di 4éme cycle (Perfectionnement).
Si perfeziona continuamente con musicisti di chiara fama mondiale tra cui: C. Delangle, V. David, C. Wirth, J. Y. Fourmeau, A. Bornkamp, D. Gauthier, M. Hirano, Jimenez Alba, R. Hekkema e nell'estate del 2014 prende parte ai corsi organizzati dalla "Université Européenne de Saxophone" di Gap (Francia).
Si è distinto in numerosi concorsi nazionali ed internazionali risultando vincitore di 11 primi premi. Nell'ottobre 2013 è stato finalista al "Premio Nazionale delle Arti" nell'ambito del quale ha ricevuto, dalla giuria, una menzione speciale.
Nel novembre 2018 è stato finalista al Concorso Internazionale per Sassofono "ProMusica" di Iasi (Romania) e nel gennaio 2019 è risultato vincitore del I premio al Concorso Internazionale per Sassofono "Adolphe Sax" di Castelbuono (Italia).
Ha preso parte inoltre a numerose rassegne musicali sia in qualità̀ di solista che in formazioni da camera esibendosi in Italia e all'estero (Croazia, Francia, Indonesia e Romania). Ha eseguito in qualità̀ di solista con orchestra il "Concerto" di A. Glazunov e il "Konsert" di L.E. Larsson.
È uno dei membri fondatori del Sunrise Trio, una formazione inusuale composta da due sassofoni e pianoforte nata dalla collaborazione con il sassofonista Vittorio Cerasa e la pianista Paola Bruni. Attualmente collabora, per lo sviluppo del repertorio sassofonistico, con i compositori italiani Roberto Vetrano e Cesare Saldicco. Con un recital dedicato proprio alla musica contemporanea italiana per sassofono ha preso parte, nel Luglio 2018, al 18° World Saxophone Congress tenutosi a Zagabria (Croazia).
Fabrizio Paoletti (IT) – Saxophonist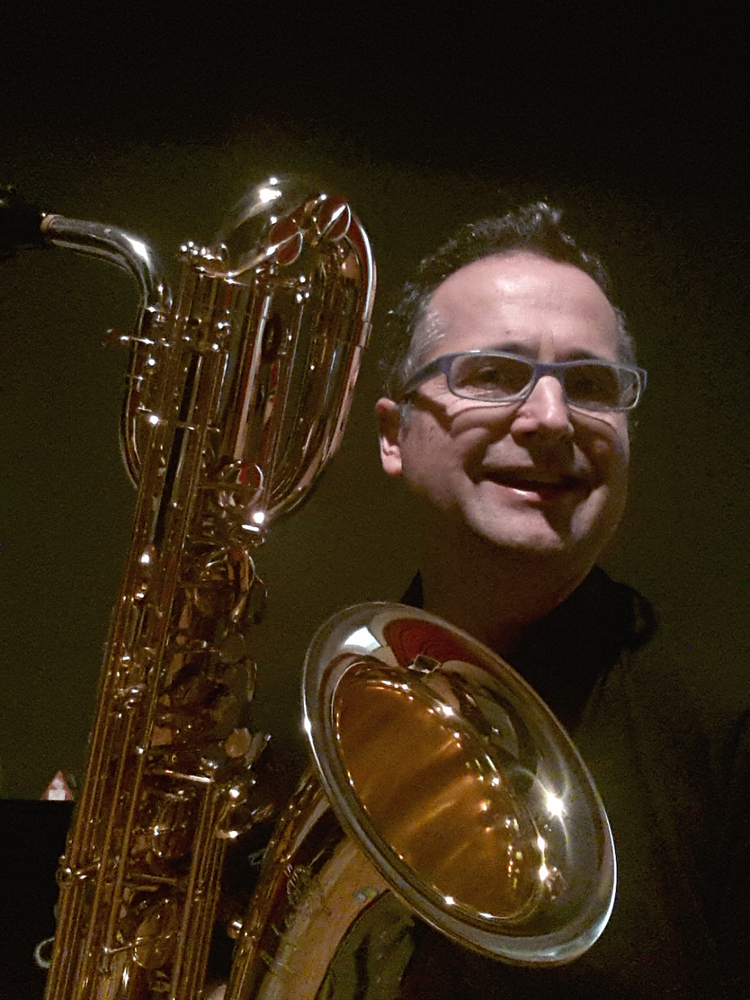 Fabrizio Paoletti began his musical career in 1984.
After graduating in Clarinet in Conservatorio di Frosinone, he further proceeded in graduating with honours in Saxophone at the Casella Conservatory of L'Aquila.
Since 1984 he plays baritone saxophone in Quartetto di Sassofoni Accademia, which became a quality standard and a reference point in fact of sound and style in Italy and Europe, playing more than 1,500 concerts, recording 18 compact discs, and promoting the creation of around 70 compositions from important authors such as Ennio Morricone (Blitz, 1995), Vittorio Fellegara (Imaginary Landscape), Franco Manino (Meriggio), Marco Di Bari (Appunti di percorso,Camera Obscura), Aldemaro Romero (Saxomania, Preludio y Quirpa, Fuga con Pajarillo) Teresa Procaccini (Meeting), and many others; he played in world premiere in prestigious locations such as the Saltzburg Mozarteum, Biennale di Venezia, MACBA in Barcelona, the CNSM in Paris, the Palau de la Música in , the Bellas Artes Center of Madrid, the Teresa Carreno theater in Caracas, Ted Mann Theater in Minneapolis, the Philharmonie in Luxemburg. He has also played for important cultural institutions and festivals such as Filarmonica di Bologna, Istituzione Universitaria dei Concerti di Roma, Nuova Consonanza, Società dei concerti B.Barattelli de l'Aquila, the Aspekte Festival in Salzburg, the Teatro Verdi in Trieste, Filarmonica Laudamo di Messina, Toronto Down-Town Jazz Festival, 2011 Wintergreen Music Festival in Virginia, and many others.
He took part to 5 world saxophone congresses such as: Tokyo 1988 (where Quartetto di Sassofoni Accademia were the only invited Italian quarted), Pesaro 1992 (playing a worldwide premiere of Sergio Prodigo's 9th Concert), Valencia 1997 (worldwide premiere of Ricci Signorini's Concerto), Toronto 2000 (Aldemaro Romero's Quartetto Latinoamericano) Mineapolis 2003 (Lovreglio's Concerto).
He played more than 80 tours worldwide: Germany, Netherlands, United States, France, Spain, Austria, Sweden, Belgium, Swiss, Hungary, Finland, Slovenia, Croatia, Greece, Turkey, Canada, Czechoslovakia, Japan, Canada, Venezuela, Brazil, Malta, Lithuania, Latvia, Poland, Romania, Albania, Ethiopia, Luxenbourg, Moldova, Korea, Denmark, Czech Republic.
Also active as a soloist and instrumentalist, he played in orchestras such as Accademia di S.Cecilia, Teatro dell'Opera di Roma, Minneapolis Symphony Orchestra, Wintergreen Festival Orchestra Virginia, the Spanish Mediterraneo symphony orchestra, Ukrainian State ORchestra, National MOldavian Philarmonic Orchestra, Kiev's Strings, Orquesta Sinfonica del Carabobo(Valencia-Venezuela), Maracaibo Symphony Orchestra, Solisti Aquilani, the Lirico Sinfonica Internazionale in Lanciano, Sinfonica di Sanremo, Sinfonica Marchigiana, Sinfonica Abruzzese, Sinfonica di Bari, Orchestra del Teatro di Messina, Philarmonia Veneta, B .Marcello Chamber Orchestra and many more. He moreover plays in camera ensambles, executing and recording works such as Webern's Quartet, Walton's Façade, Sestetto Mistico e settimino di Villa Lobos, as well as several contemporary works.
He collaborated with important musicians such as Claude Delangle, Bruno Canino, Massimiliano Damerini, Luisa Castellani, Alda Caiello, Michele Placido, Cristina Zavalloni, Patrick Gallois, Giuseppe Garbarino, Mauro Maur.
He recorded music for RAI,, Radio France, Radio Croata, Radiotelevisione Capodistria, and other radio broadcasting companies worldwide.
He collaborated to the Hommage à Sax compact disc (with Claude Delangle), to whom Radio France has dedicated the documentary L'Immaginaire de Sax, during the 100th anniversary of the inventor's passing, held at the Musée des l'Invalides in May 1994.
He is a saxophone teacher at the Conservatorio J.Tomadini in Udine. He holds courses and master classes in Spain, Denmark, Venezuela, United States, Slovenia, Albania. Turkey, Latvia, France ( (Parigi, Conservatoire National Superieur de Musique), Czech Republic, Poland, Estonia, and Italy. He is regularely invited to take part as a member of the jury for musical competitions in Italy, France, Slovenia, Latvia. His students are winners of concourses in prizes in Italy and abroad.
He was awarded the prestigious Premio Scanno XXXIV Edition for his long career.
Alex Sebastianutto (IT) – Saxophonist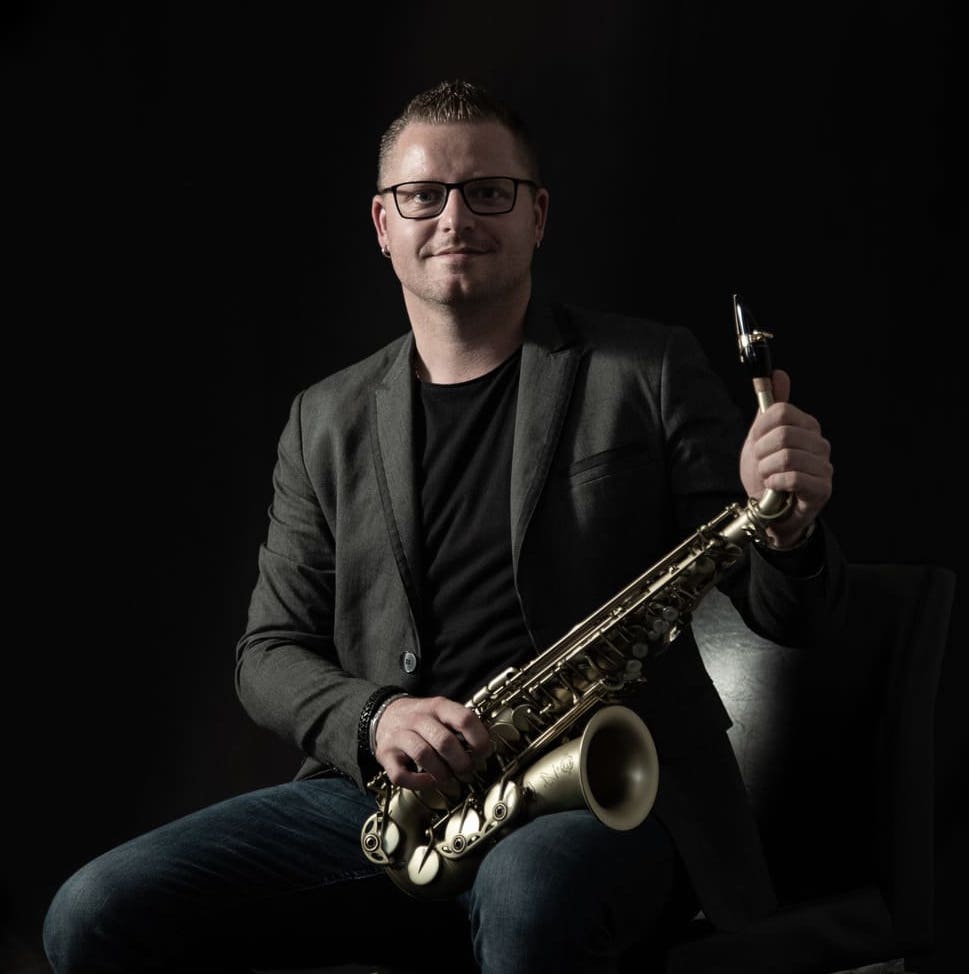 Alex Sebastianutto obtained a degree in Saxophone Performance from the Conservatorio J. Tomadini in Udine with full marks and then obtained a master's degree in Teaching of Instrumental Music.
He graduated with a master's degree in Musical Studies and Wind Instruments-Saxophone from the Conservatorio G. Frescobaldi in Ferrara, where he studied with Marco Gerboni, with full marks and honors. He then received a master's degree in Chamber Music from the Conservatorio G. Frescobaldi in Ferrara, again graduating with full marks. He then studied with internationally renowned teachers Jean Marie Londeix, Federico Mondelci, Mario Marzi, Massimo Mazzoni, Marco Gerboni, Fabrice Moretti and Claude Delangle.
He is the winner of twelve National and International first prizes (Camerino 2004, Udine 2005, Lamporecchio 2006, Padova 2006, Arezzo 2008, Riccione 2008, Pontinvrea 2008, S.Bartolomeo al Mare 2008, Asti 2010, Svirel-Slovenia 2011, Piove di Sacco 2011, Bertiolo 2013), two second prizes (Roma 2005, Palmi 2010) and two third prizes (Povoletto 2001, Pesaro 2007).
He performed in prestigious festivals in Italy and abroad, including the 14thWorld Saxophone Congress in Lubljana (Slovenia), the Biennale di Venezia, the Ravenna Festival, the 17th Stage Internazionale del Saxofono in Fermo and the 39th Navy Band International Saxophone Symposium in Washington D.C. (USA).
He performed with numerous orchestras, including Orchestra Filarmonia Veneta, Orchestra Sinfonica del Friuli Venezia Giulia, FVG Mitteleuropa Orchestra, Orchestra del Teatro Verdi di Trieste, Orchestra del Teatro Lirico di Cagliari, Orchestra del Teatro San Carlo di Napoli, Orchestra Filarmonica della Fenice di Venezia and FORM Orchestra Filarmonica Marchigiana under the direction of acclaimed conductors such as Enrico Bronzi, Daniel Oren and Wayne Marshall among others. He performed as a soloist with Orchestra Virtuosi d'Aquileia, Orchestra Accademia d'Archi Arrigoni, FVG Mitteleuropa Orchestra, FORM Orchestra Filarmonica Marchigiana, and several wind bands and ensembles.
Composers such as Renato Miani, Pepito Ros, Simone Movio, Paolo Ugoletti, Damiano Lazzaron and the american Stephen Melillo dedicated composition to him.
To his credit he has several recordings for Italian National television channels (RAI and Mediaset – Canale 5), National radio (Radio 3), and record productions (Intersections in 2011, Faces in 2011, Zahir in 2013, Viaje in 2016, Solo in 2017). Thanks to his versatility he has also performed with renown artists such as Tosca, Antonella Ruggero, Matteo Setti, Luisa Cottifogli and Milva.
He is esteemed for his concert, recording and didactic activity conducted in Italy and abroad with MAC Saxophone Quartet.
He is a contemporary music populariser and the founder and artistic director of the Pontebba Saxophone Festival (2013, 2014, 2015, 2016, 2017, 2018), an important reference point in Italy for students and saxophone enthusiasts.
He is currently professor of Saxophone at the Liceo Musicale "Carducci-Dante" in Trieste.