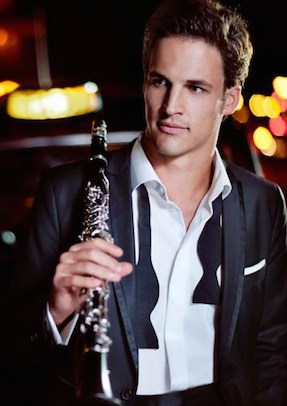 The Austrian clarinettist Andreas Ottensamer has captured audiences and critics alike with the singular beauty of tone that he coaxes from the instrument. At one stage he studied the cello, which perhaps has helped to imbue his approach to the clarinet with a soulful depth. His Viennese instrument, with a wider bore than the closely related German-system clarinet, produces a particularly dark, expansive and warm tone, which he exploits to full advantage.
Born in 1989, Ottensamer comes from an Austro-Hungarian family of musicians and was drawn to music early, receiving his first piano lessons when he was four. At the age of ten he began studying cello in his home town at the University of Music and Performing Arts Vienna, then changed to the clarinet under Johann Hindler in 2003.
Andreas Ottensamer gained his first orchestral experience as a deputy in the orchestra of the Vienna State Opera and the Vienna Philharmonic and as a member of the Gustav Mahler Jugendorchester. In 2009 he interrupted his Harvard studies to become a scholar of the Orchestra Academy of the Berliner Philharmoniker. From July 2010 to February 2011 he has played as principal clarinettist with the Deutsches Symphonie-Orchester Berlin.
Since March 2011 he is principal clarinettist of the Berlin Philharmonic."
Ottensamer has won first prize in competitions for clarinet, cello and piano, and performs as a soloist and chamber musician throughout the world in venues such as Musikverein Wien, Konzerthaus Wien, Brucknerhaus Linz, Musikverein Graz, Philharmonie Berlin, Tempodrom Berlin, De Doelen Rotterdam, and Seoul Arts Center. His artistic partnerships include work with Murray Perahia, Leif Ove Andsnes, Leonidas Kavakos, Janine Jansen, Clemens Hagen and Yo-Yo Ma. In 2005 Andreas Ottensamer founded the clarinet trio The Clarinotts with his father Ernst and brother Daniel, both solo clarinettists in the orchestra of the Vienna State Opera and the Vienna Philharmonic. Several works have been dedicated to the ensemble.
In February 2013 Andreas Ottensamer entered an exclusive recording partnership with Deutsche Grammophon/Mercury Classics, making him the first ever solo clarinettist to sign an exclusive agreement with the Yellow Label. His first album, Portraits – The Clarinet Album, has been released in June 2013 and features concertos by Copland, Spohr and Cimarosa, plus arrangements of short pieces. His partners are the Rotterdam Philharmonic Orchestra under Yannick Nézet-Séguin.
He said of the recording: "This album poses the challenge of jumping between different styles and ways of playing, but at the same time I set a high priority on maintaining my personal interpretation and sound."
For a man who is so dedicated to music, Andreas Ottensamer is also passionate about sport. For many years he was a tennis tournament player, and together with his brother he founded his own football club, the Wiener Virtuosen, in 2007. The team plays successfully in the Wiener DSG league and Ottensamer still travels to Vienna for matches whenever his schedule permits.
Apart from his extensive activities within the world of classical music, Andreas Ottensamer has widened his horizon to other musical fields, resulting in a collaboration and recording with Tori Amos on her album Night of Hunters.
Andreas Ottensamer is very passionate about chamber music. He is artistic director of the "Buergenstock Momente" – Festival in Switzerland together with pianist José Gallardo. Artists such as Nils Mönkemeyer, Clemens & Veronika Hagen, Albrecht Mayer, Linus Roth, Danjulo Ishizaka, Benjamin Schmid and the Szymanovksi Quartet have been part of the festival.
The beauty of tone and distinct musicality over a wide range of styles have won extensive critical plaudits for Andreas Ottensamer. Sybill Mahlke wrote in Der Tagesspiegel of his "limitless dynamic range . . . he plays with a vitality that pushes boundaries." NRC Handelsblad said: "Andreas Ottensamer melts with his clarinet . . . he is an 'übersolist' and a phenomenon." Rebecca Schmid wrote for MusicalAmerica.com: "Solo clarinettist Andreas Ottensamer played with particular finesse . . . and a touch of melancholy."