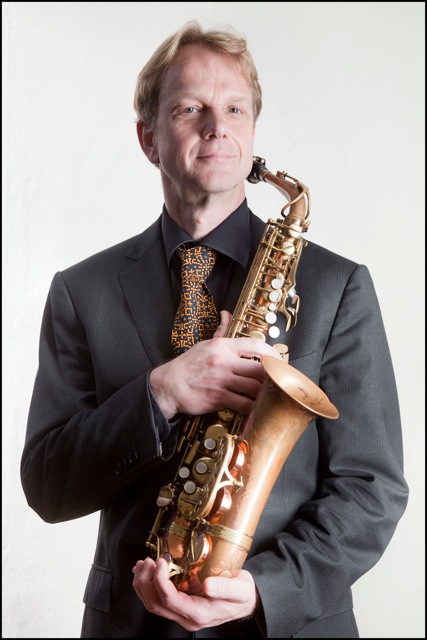 Dutch saxophonist Arno Bornkamp (born 1959) is the archetype of the modern virtuoso, feeling equally at home in traditional and contemporary repertoire. Hailed as a lyrical musician with a great sense of performance, Bornkamp studied at the Sweelinck Conservatory in Amsterdam with Ed Bogaard and graduated in 1986 with the highest distinction. He has won many awards, the 'Silver Laurel of the Concertgebouw' and the 'Netherlands Music Prize' among the most noteworthy. The latter enabled him to go abroad, studying in France with Daniël Deffayet and Jean-Marie Londeix, in Japan with Ryo Noda as well as working with composers as Luciano Berio and Karlheinz Stockhausen.
 Since his 1982 solo debut in Rome performing the 'Concertino da Camera' by Jacques Ibert, he has played more than 200 concerts with orchestras around the world, including the most important works from the saxophone repertoire in addition to new concerti written especially for him, such as the 'Tallahatchie Concerto' by Jacob TV. Recently Bornkamp added 3 new works to his already-large repertoire: saxophone concerti by Joey Roukens and Carlos Michans, and the 'Trois Danses' (orig. for oboe) by Frank Martin, the last of which he performed with the Scottish Chamber Orchestra at the XVI World Saxophone Congress in St. Andrews.
 This fits perfectly in Bornkamp's ambassadorship for new music: throughout his whole career he has collaborated with composers, such as Martijn Padding, Christian Lauba, Peter van Onna, Otto Ketting, Louis Andriessen, Jacob ter Veldhuis, Simon Burgers, Wijnand van Klaveren, Perry Goldstein and many others.
 In addition to his solo career, chamber music is one of Arno Bornkamp's great loves. For over 30 years, Bornkamp has been a member of two groups: the Aurelia Saxophone Quartet and his duo with pianist Ivo Janssen. Additionally, for the past three years Bornkamp has taken part in another unique ensemble: het Clazz Ensemble, made up of musicians from both the Jazz and Classical worlds. Arno Bornkamp's many activities (including concerts, festivals, masterclasses, lectures) have taken him to many countries in Europe, the USA, Japan and South America,
The many CD's he has made since 1990 on various labels have garnered national and international praise. In some of these recordings Bornkamp has taken a certain period of saxophone history and put it under the microscope, in others he highlights a specific composer. Of the latter variety is his 2009 CD, released on the Basta label: 'Buku of Horn: Arno B. plays JacobTV', a musical portrait  of Dutch composer Jacob ter Veldhuis.
Likewise, his most recent CD is also a composer portrait, released in 2012 on the Ottavo-label: 'Frank Martin and the Saxophone'. 2012 has seen the release of his new CD with Ivo Janssen featuring music by Claude Debussy.
Most recently Bornkamp has developed a new project entitled 'Bach in Beeld' (Bach in Images). With the 'accompaniment' of images from video-artist James Murray he plays (on three different saxophones) arrangements of 3 solo-works by Bach: the 2nd Suite for Cello, the Flute Partita and the 2nd Violin Partita.
 Arno Bornkamp is a renowned teacher, leading an international saxophone class at the Conservatory of Amsterdam. In the summer he teaches at the International Saxophone Masterclass in Laubach (Germany), the International Summer Workshop in Szczecinek (Poland), Alcosax in Alcorisa (Spain) and at the Université d'Eté Européenne pour saxophone in Gap (France).
www.arnobornkamp.nl