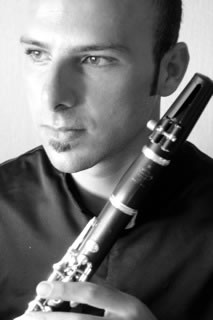 Francesco Paolo Scola was born in Italy in 1983.Following his studies he graduated at the age of 19
with firtst-class honours (10/10 summa cum lauda) from the "V.Bellini" Conservatory in Palermo (Italy).
 Shortly after completing his studies, in 2004 he began working with Teatro dell'Opera di Roma alongside conductors such as Riccardo Muti,Hubert Soudant,Alain Lombard,Zoltan Pesko,Gunter Neuhold…
Since 2009 he has been Principal Solo Clarinet – Section Leader with the Ulster Orchestra (Belfast-U.K.) with whom he regularly broadcasts live on BBC radio 3 and Ulster, takes part in festival such as the BBC promenades concerts at the Royal Albert Hall in London amongst others, and has recorded several CDs for labels such as Chandos,Naxos and Somm.
 He is frequently invited as principal guest clarinet with the CBSO City of Birmingham Orchestra, ENO English National Opera in London, Northern Sinfonia in New Castle (including recordings of Bruckner's symphonies cycle), Irish Chamber Orchestra in Limerick, Teatro dell' Opera di Roma (Italy).
 He has toured throughout Europe and Japan and has won many international music competition,including, among many, Premio Seiler, the 16th Concorso internazionale di esecuzione musicale  "Provincia di Caltanissetta" (member of the International Federation of Geneva Competition), Premio "Valle del Barocco".
 He has played frequently with the Soni Ventorum ensemble both in Italy and overseas and appeared as soloist with the "Teatro Massimo" for the event "il Massimo per Schoenberg", with the Teatro Biondo Stabile and at the "Flauto d'Oro" in Udine where the Honorary Committee included Luciano Berio, Zubin Metha amongst others.
 He regularly performs as soloist with the Ulster Orchestra and many others Italian orchestras most of the repertoire for clarinet and orchestra, including Mozart, Weber ,Copland clarinet concertos amongst others.
He is frequently invited teaching master classes in Italy and abroad, including: the clarinet summer school in Liverpool Hope University, Soni Ventorum masterclass Italy, Associazione Filarmonica Eliodoro Sollima Sicily.